---
British railway wagons
The Railway Clearing House wagons
---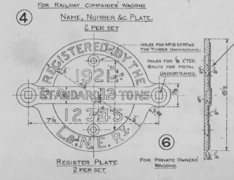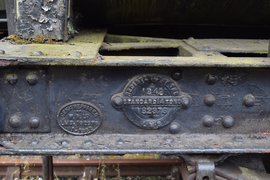 The British railway system developed piecemeal, as a set of individual proposals. In some other countries, notably Belgium and France, central government had a strong hand in the planning and development of the system. The laissez-faire approach in Britain allowed for rapid growth but naturally led to the establishment of very diverse working arrangements.
The Railway Clearing House (RCH) was set up in 1842, initially to apportion receipts for goods and passengers passing between individual railway companies. The RCH naturally provided a forum in which the companies could discuss joint operations. One particular difficulty was the interworking of wagons for which there were no accepted standards.
Early wagons were often of very crude construction: for instance they might have 'dumb' buffers (solid blocks of wood) rather than the spring buffers. Individual wagons would have their own hand brakes, but the levers controlling the brakes were often only on one side, and not necessarily the same side. The lubrication arrangements were similarly not standardised.
Starting in 1887, the RCH started to promulgate standards in an attempt to protect its constituent companies from the consequences of accidents involving unsafe rolling stock. The immediate catalyst for this was the Barnsley Junction accident at Pennistone station in 1885, which led to the deaths of three people: a wagon axle had fractured as a passenger train was passing.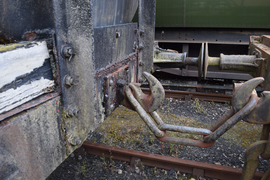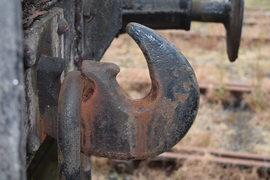 There is no single RCH standard, and wagons manufactured by different companies in any case show quite a bit of variation, especially above the chassis. The main focus of the standards is on buffing, coupling and lubrication. The most widely used revision is dated 1923.
Further reading
A useful contemporary overview of RCH standard vehicles may be found in Chapter Ten of Railway Mechanical Engineering, a two volume set published by the Gresham Publishing Company in 1923. The material on wagons was written by Surrey Warner (who was at the time Carriage and Wagon superintendent of the LSWR) and I believe it is now out of copyright, so I have scanned my copy and you can read it here. Please be aware that I scanned it at high resolution so as to allow close examination of the diagrams: as a result the file size is around 48Mbytes.

Albert Wright, who built wagons in the 1930's has written about the manufacturing sequence: you can find it here.
RCH wagon drawings and copyright
RCH wagons were ubiquitous on the British railway up until the 1970's, but it is surprisingly difficult to locate usable drawings. There are many modern books on wagons which include small images of drawings, but these are usually hard to read.

In 2017 I was given a cache of scanned drawings at quite high resolution. I then tried to identify the original source of the drawings and of the scans, and attempted to establish their copyright status. This has turned out to be quite hard to do, but I have had correspondence with Mr David Halfpenny who formerly managed the UK Rail Vehicle Records database and the rail vehicle Parts Database. His letter to me is reproduced here.

On the basis of this letter, I have decided to mount the scans on this publicly accessible server. I would like to thank the (unknown) individuals who produced this material.

If you are the custodian of this intellectual property and wish to assert that the materials may not be made available in this way, then please contact me as a.johnstone@rhul.ac.uk.
The wagon drawings
The cache of drawings comprises 48 sheets, most of which are over 10Mbytes when scanned. You can collect the whole set using this link:

All drawings in one zip file, 512 Mbyte

I have also thumbnailed the drawings and list them here to ease browsing: if you click on the thumbnail it will open the full PDF.

rch1000 Arrangement of timber underframe for standard 12 ton railway wagon also for coke wagon 3/4" to 1' April 1923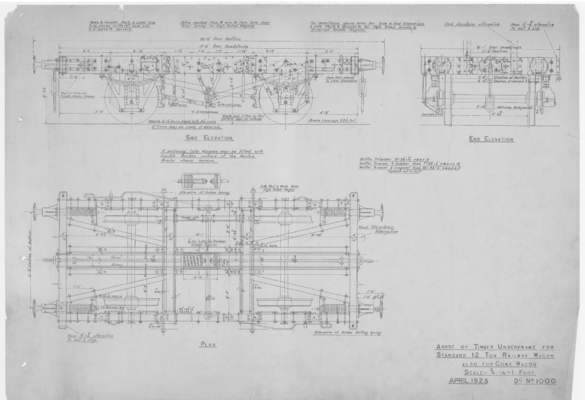 rch1001 Arrangement of metal underframe for standard 12 ton railway wagon also for coke wagon 3/4" to 1' April 1923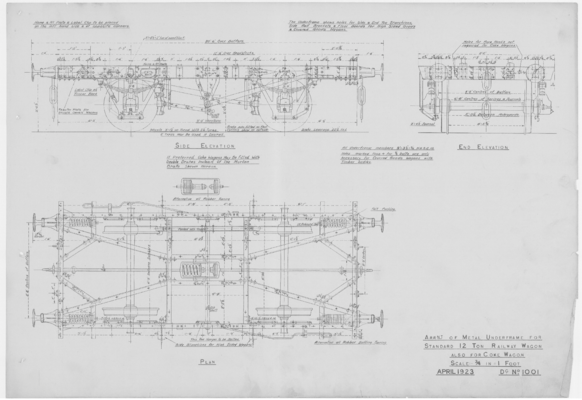 rch1002 Standard 12 ton wagon. Arrangement of mineral wagon. Timber underframe. 3/4" to 1' April 1923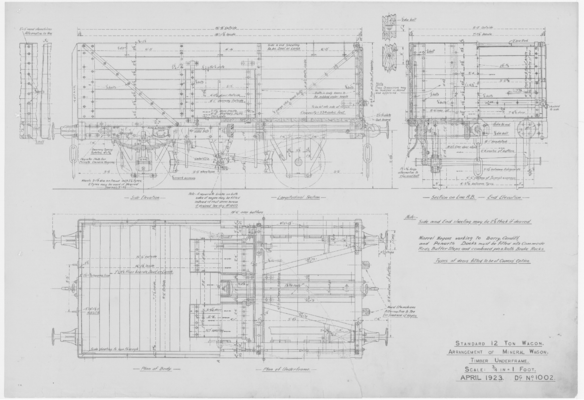 rch1003 Standard 12 ton wagon. Arrangement of mineral wagon. Metal underframe. 3/4" to 1' April 1923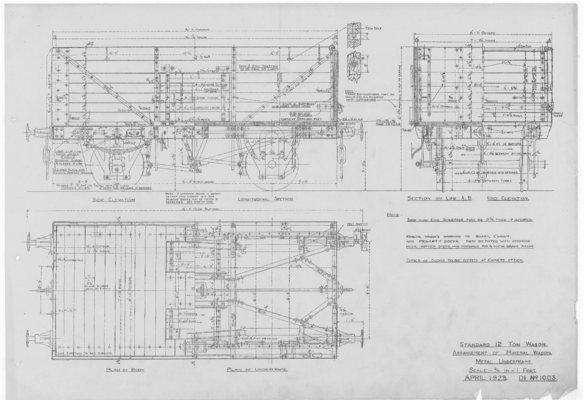 rch1004 Standard 12 ton wagon. Timber underframe members. Goods and coke wagons. 1 1/2" to 1' April 1923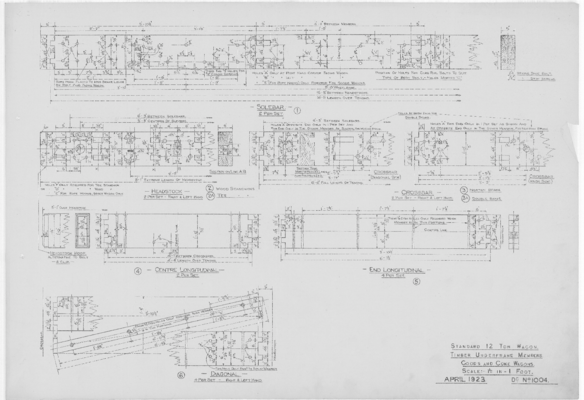 rch1005 Standard 12 ton wagon. Metal underframe members. Goods and coke wagons. 1 1/2" to 1' April 1923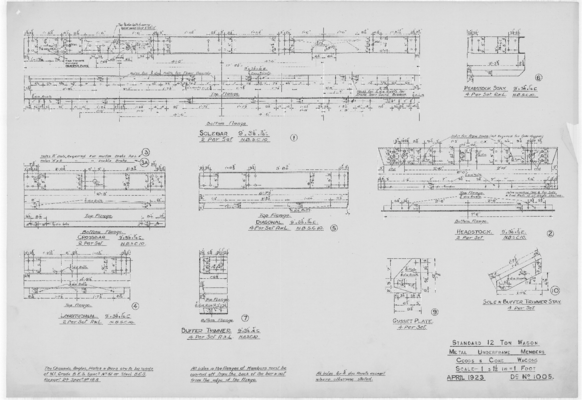 rch1006 Standard 12 ton wagon. Framing ironwork timber underframe. Goods and mineral wagon. 1 1/2" to 1' and 3" to 1' April 1923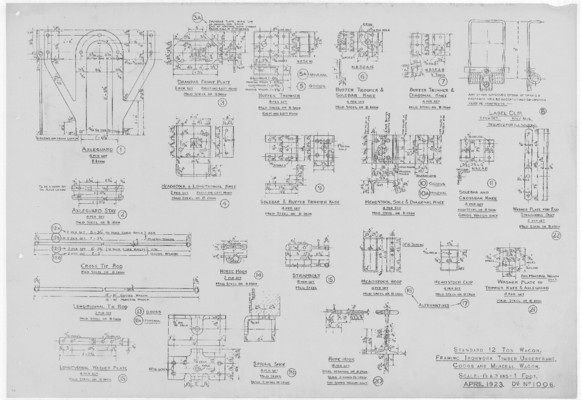 rch1007 Standard 12 ton wagon. Buffing and drawgear. For timber or metal underframes. Goods or mineral wagons. 1 1/2" to 1' and 3" to 1' April 1923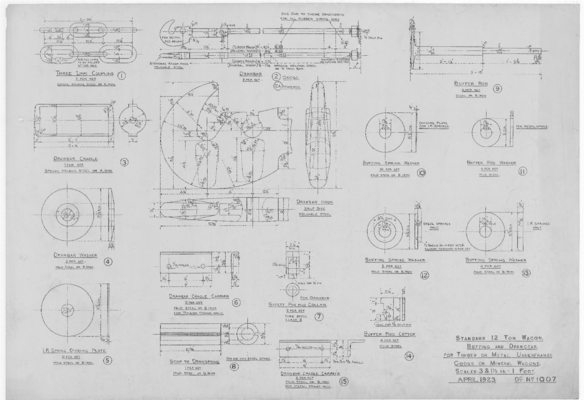 rch1008 Standard 12 ton wagon. Brakework details. Common to Morton and Double Brake. Wood or metal underframe. Goods, coke and mineral wagons 1 1/2" to 1' and 3" to 1' April 1923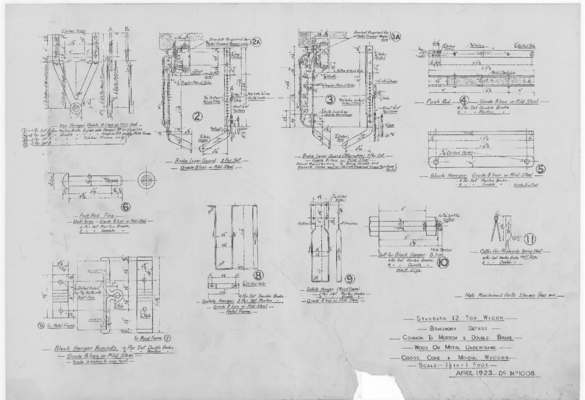 rch1009 Standard 12 ton wagon. Details of brakework separated for Morton and Double Brake. Goods, mineral and coke and wagons. Timber and metal underframes. 1 1/2" to 1' and 3" to 1' April 1923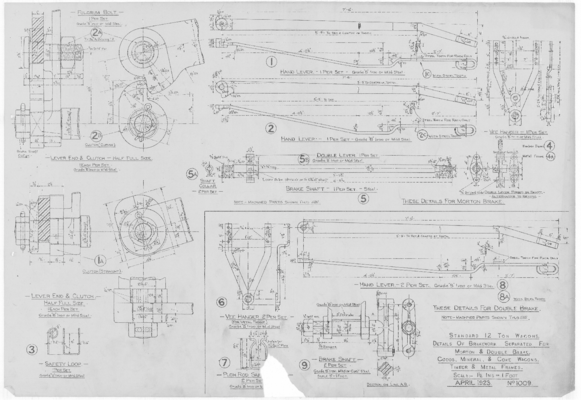 rch1010 Standard 12 ton wagon. Timber underframe members. Mineral wagon. 1 1/2" to 1' April 1923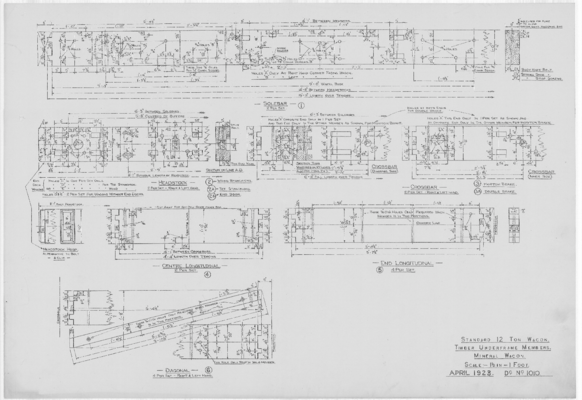 rch1011 Standard 12 ton wagon. Metal underframe members. Mineral wagon. 1 1/2" to 1' April 1923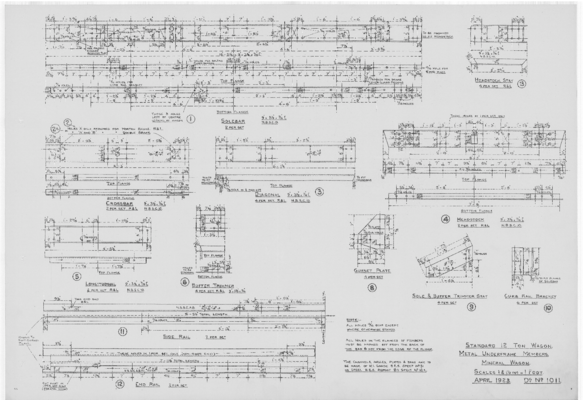 rch1012 Standard 12 ton wagon. Framing ironwork for metal underfame. Goods, coke and mineral wagons. 1 1/2" to 1' and 3" to 1' April 1923
rch1013 Standard 12 ton wagon. Body details common to mineral wagons with timber or metal underframe. 1 1/2" to 1' and 3" to 1' April 1923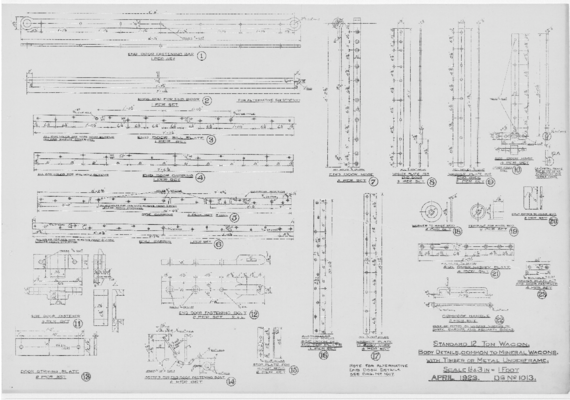 rch1014 Standard 12 ton wagon. Body details, separated, for mineral wagons with timber or metal underframe. 1 1/2" to 1' April 1923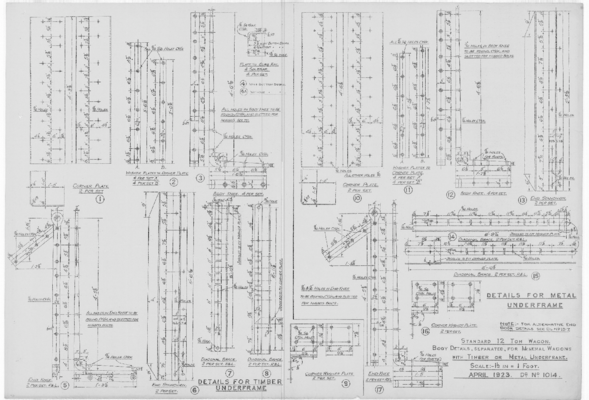 rch1015 Standard 12 ton wagon. Bottom door fastenings for timber or metal underframes on mineral wagons. 3" to 1' April 1923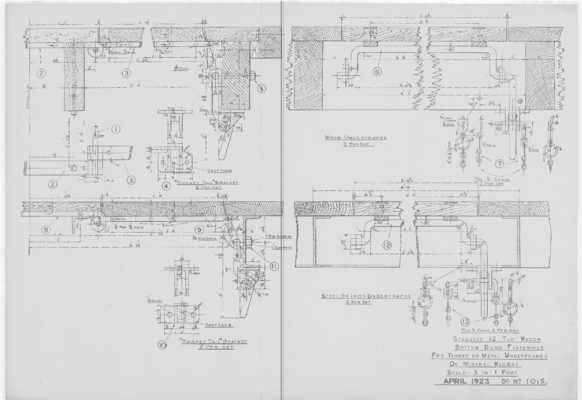 rch1016 Standard 12 ton wagon. Arrangement of fixed and removable coke rails. 1" to 1' April 1923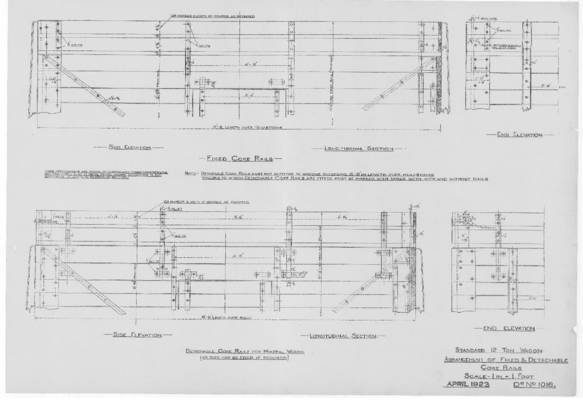 rch1017 Standard 12 ton wagon. Alternative end door details. 3" to 1' April 1923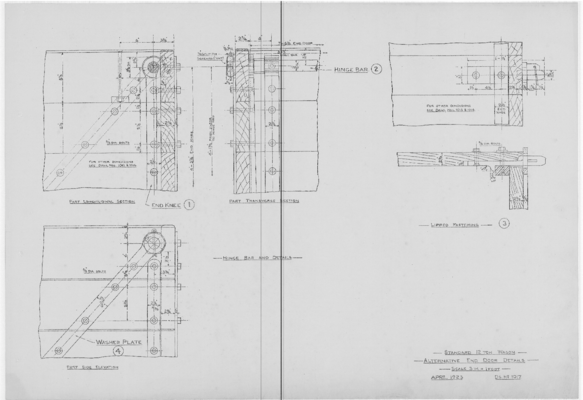 rch1018 Standard 12 ton wagon. Draw, buffing, bearing and door springs, for timber or metal underframes. Goods or mineral wagons. 6" to 1' and 3" to 1' April 1923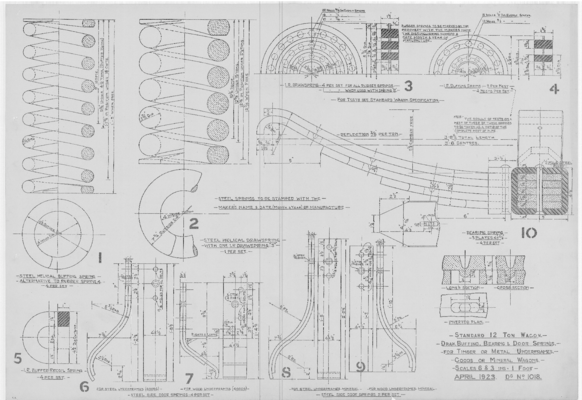 rch1019 Standard 12 ton wagon. Oil axlebox. Wood or metal underframes. 6" to 1' April 1923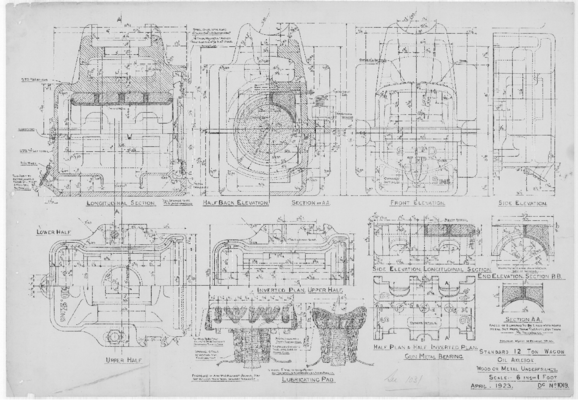 rch1020 Standard 12 ton wagons and 10 ton tanks. Details of wheels and axle. 1 1/2" to 1' and half size April 1923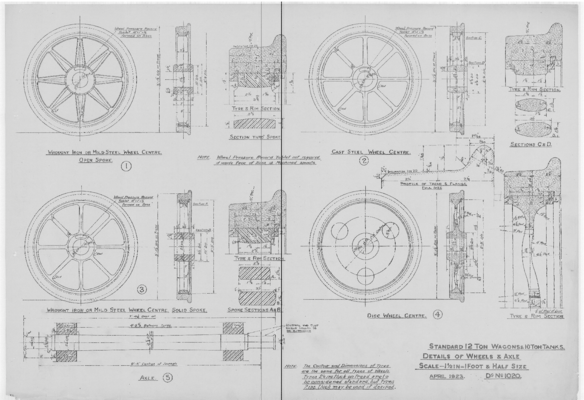 rch1021 Standard 12 ton wagon. Details of iron castings. Half size April 1923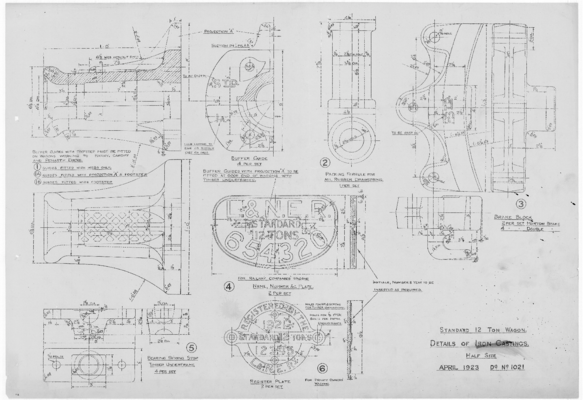 rch1022 Standard 12 ton wagons and 10 ton tank. Oil axlebox. 6" to 1' April 1923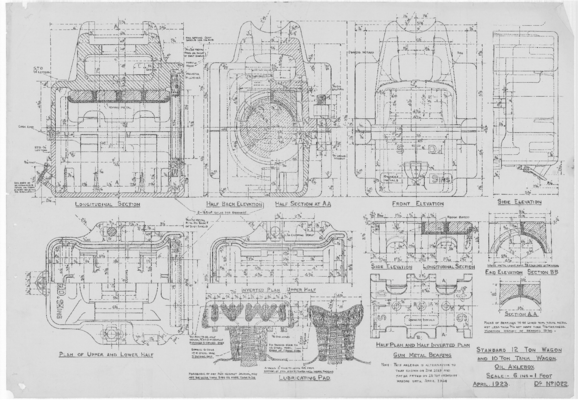 rch1023 Standard mineral, goods and tank wagons. Lubricating pads and dust shields for axle boxes. Half size April 1923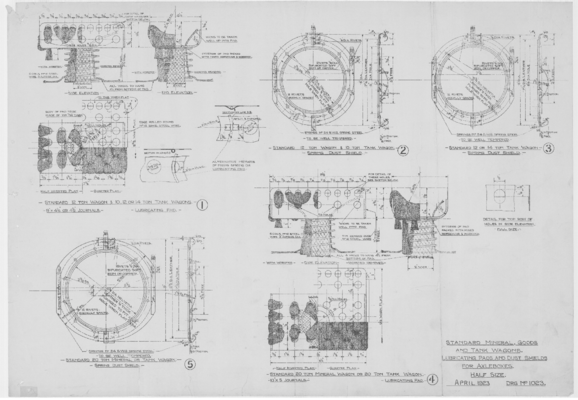 rch1024 Standard 12 ton wagon. Templates and gauges. 3" to 1' April 1923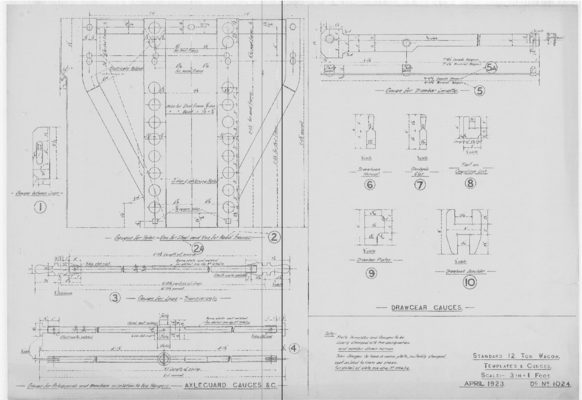 rch1025 Standard 12 ton wagon. Templates and gauges. 3" to 1' April 1923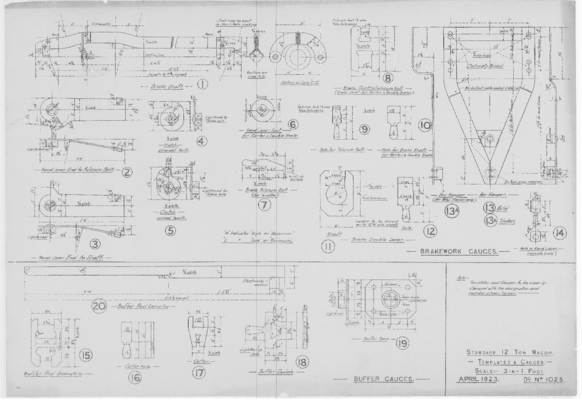 rch1026 Standard 12 wagons and ten ton tank wagons. Templates and gauges. 3" to 1' April 1923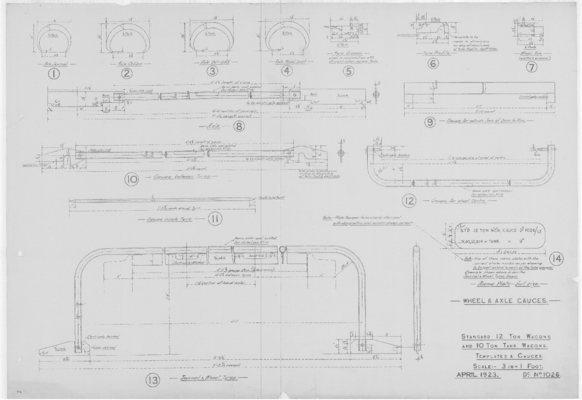 rch1027 Standard 12 ton wagon. Gauges for oil axlebox. Half size April 1923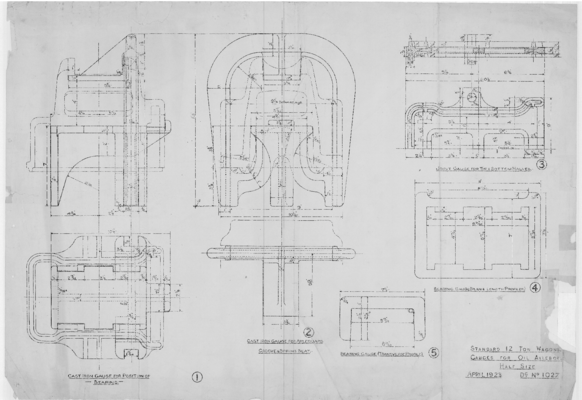 rch1028 Standard 12 ton wagon. Arrangement and details of sheet support. Goods wagon. 1 1/2" to 1' and 3" to 1' July 1923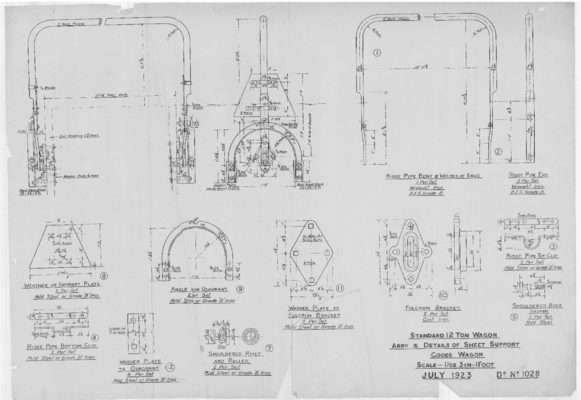 rch1030 Modification of bottom half of axlebox. Drawing number 1019. Full and half size March 1925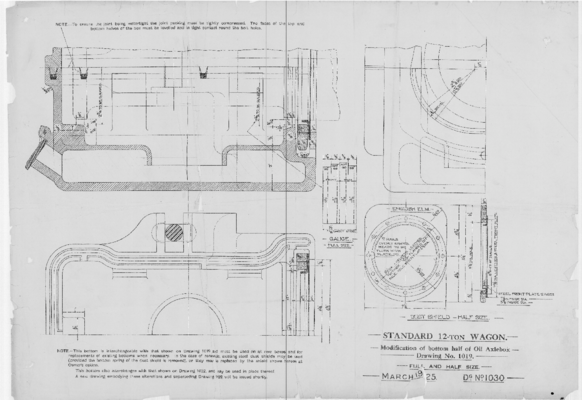 rch1031 Standard 12 ton wagon. Oil axlebox. Wood or metal underframes. Supercedes 1019, 1029 and 1030 6" to 1' September 1925
rch1033 Standard wagons. Standard rolled bars. 1 1/2" to 1' January 1926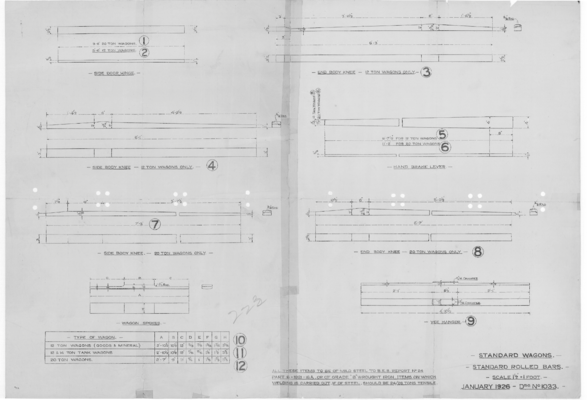 rch1034 Standard 12 ton wagon. Arrangement and details of side doors. 1 1/2" to 1' and 3" to 1' January 1926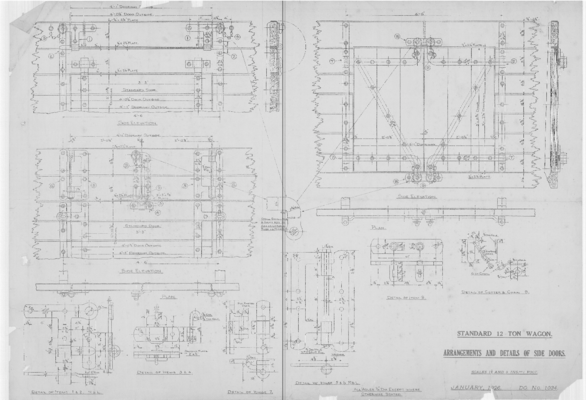 rch1035 Standard 12 ton wagon. Timber underframe. Cast steel buffer trimmer. Half size February 1926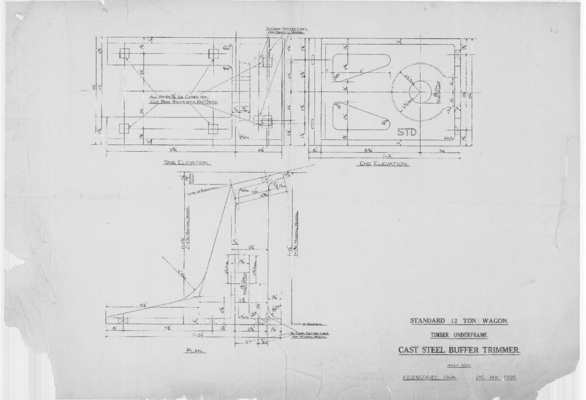 rch1036 Standard mineral, goods and tank wagons. Lubricating pads and dust shields for axle boxes. Half size October 1926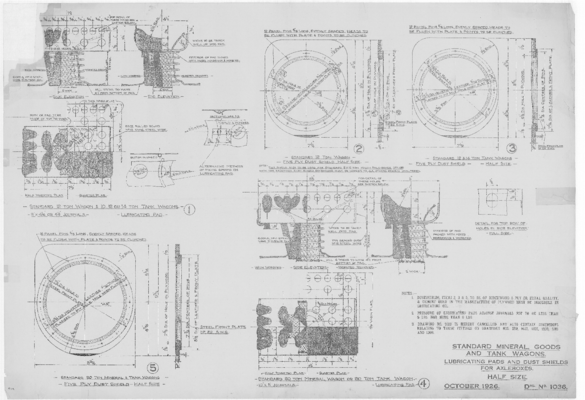 rch1036b Standard mineral, goods and tank wagons. Lubricating pads and dust shields for axle boxes. Half size October 1932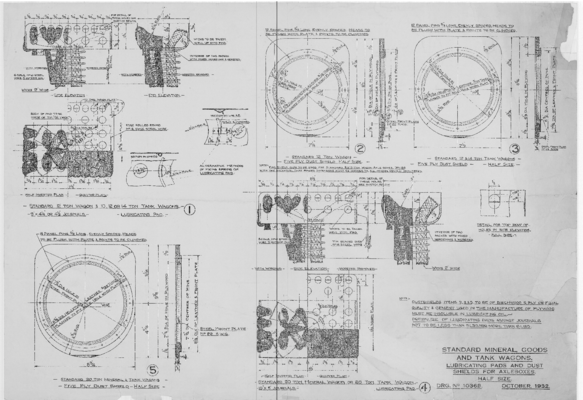 rch1042 Solid rolled wheels for standard wagons. 3", 6" and 12" ti 1' August 1934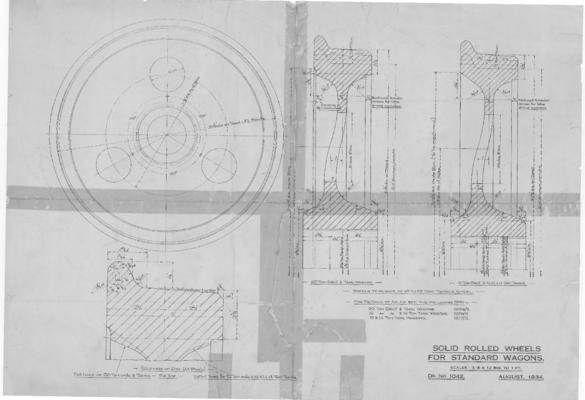 rch1044 Details of drawgear. Standard wagons. 1 1/2", 3" and 6" to 1' September 1937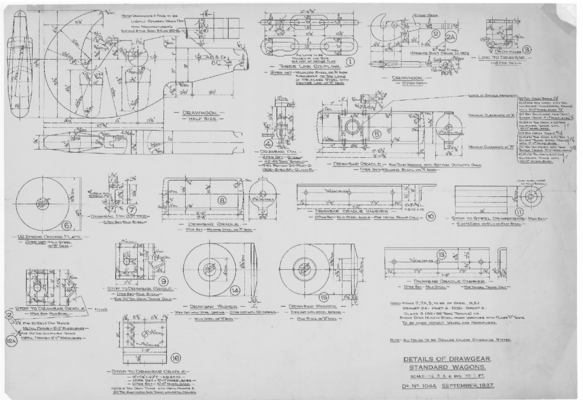 rch1045 Details of intermediate drawbars. Standard wagons. 3" to 1' September 1937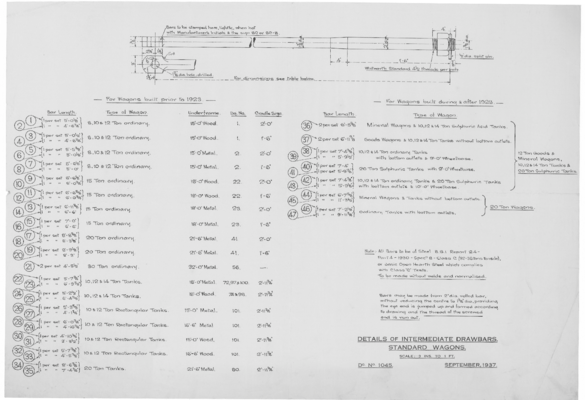 rch1049 Fabricated steel buffer guide for standard wagons. 6" to 1' 0" April 1947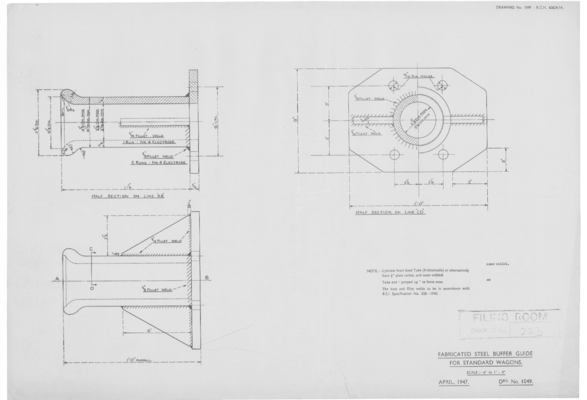 rch1050 Fabricated steel buffer guide for standard wagons. 6" to 1' 0" April 1947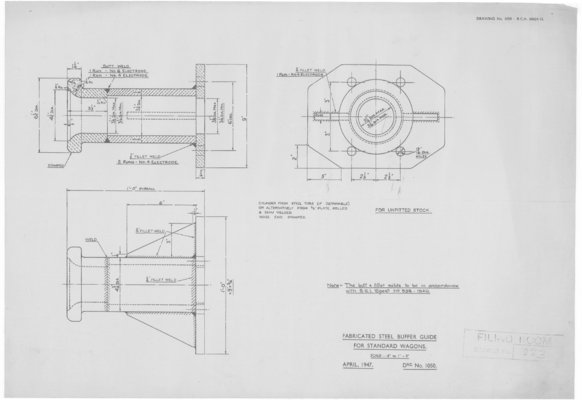 rch1051 Oil hardened bearing springs for wagons. 3" to 1' 0" April 1947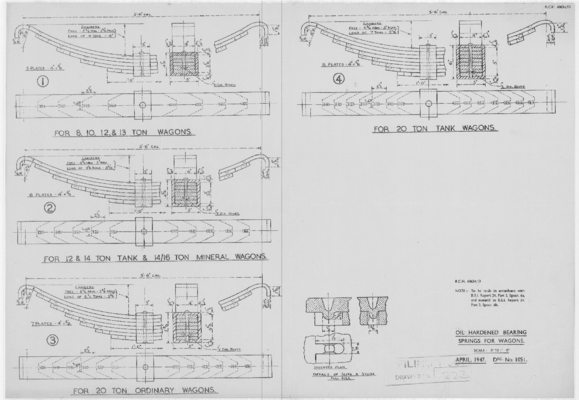 rch1400 Standard 12 and 13 ton mineral wagons. Arrangement of metal underframe. 1/4" to 1' December 1944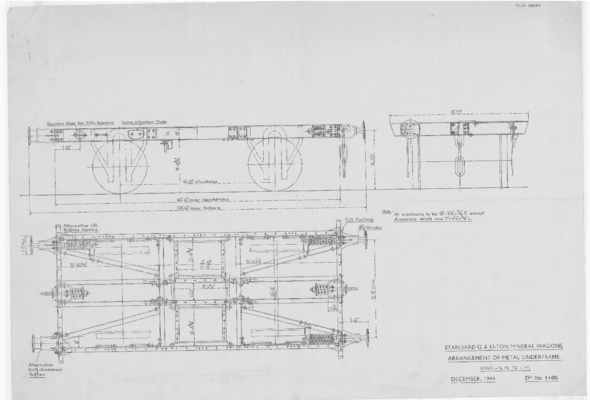 rch1401 Standard 12 and 13 ton mineral wagons. Metal underframe members. 1" to 1' and 1 1/2" to 1' December 1944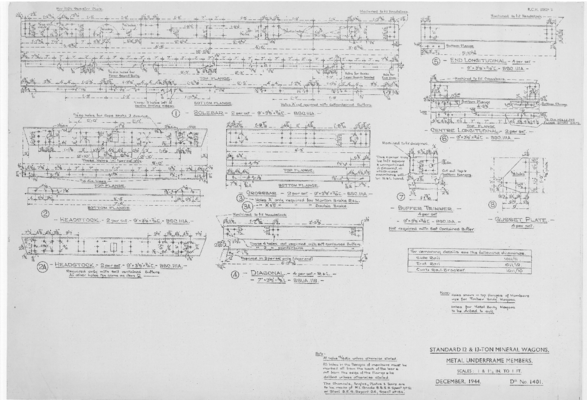 rch1402 Standard 12 and 13 ton mineral wagons. Metal underframe details. 1 1/2" to 1' December 1944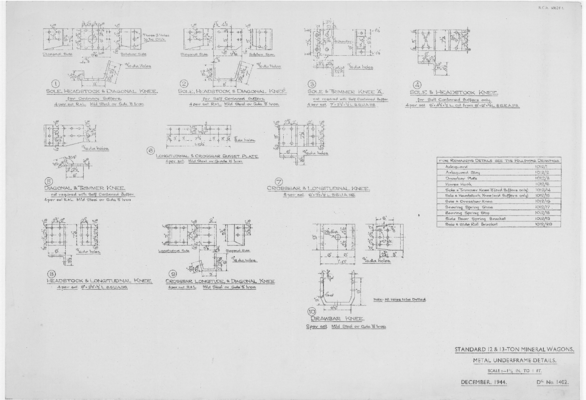 rch1403 Standard 12 and 13 ton wagons with metal underframe. Details of buffing and draw gear. 1 1/2", 3" and 6" to 1' December 1944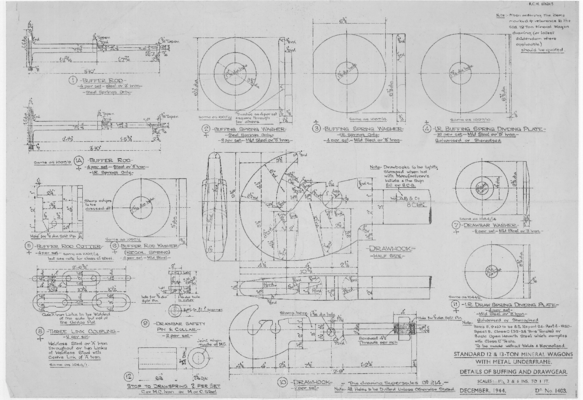 rch1404 Standard 12 and 13 ton wagons with metal underframe. Details of draw, buffing, bearing and door springs. 3" to 1' and 6" to 1' December 1944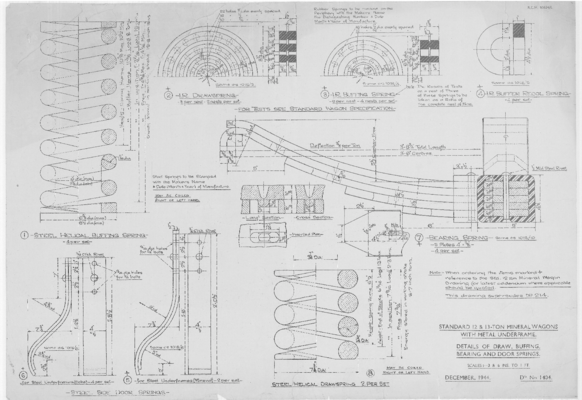 rch1405 Standard 12 and 13 ton wagons with metal underframe. Details of bottom door fastenings. 3" to 1' December 1944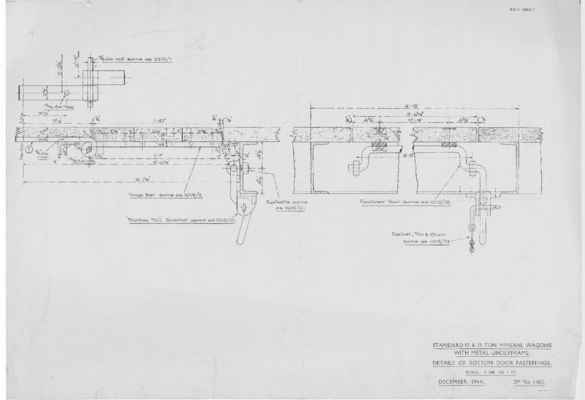 Pages written by Adrian Johnstone, last updated 17 June 2018